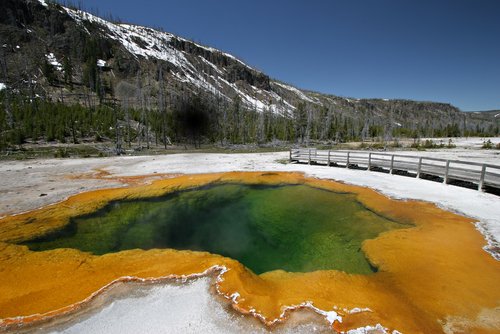 Yellowstone Park is the first and
oldest national park in the world
and covers 8,987 km, mostly in the northwest corner of Wyoming. The park is famous for its various geysers, hot springs, and other geothermal features and is home to grizzly bears, wolves, and free-ranging herds of bison and elk. Yellowstone park is a United States National Park and a UNESCO World Heritage Site.
What to see in Yellowstone park
Yellowstone is world-famous for its natural heritage and beauty. Yellowstone park holds half the world's geothermal features. The wildlife of Yellowstone Park is tempting as well, with grizzly bears, wolves, bison and elk, all while standing on the surface of the Earth's largest known "super-volcano".
Mammoth
Norris
Madison
Geyser basins
Lone Star geyser
Grant Village
Lake Area
Canyon
Tower-Roosevelt
What to do in Yellowstone
Hiking

Wildlife Viewing

Horse Riding

Photography

Fishing

Swimming



Dangers in Yellowstone
Important, stay away from cute looking animals, they can be dangerous and potentially kill any human within minutes.
Weather in Yellowstone
The weather in Yellowstone National Park can change very rapidly from sunny and warm to cold and rainy, so it's important to bring along extra layers of clothing which can be used as needed. Usual Summer temperature varies from 25°C to 30°C and Winter temperatures often range from zero to -20°C. The record low temperature is -54°C.
Fees/Permits
All vehicles and individuals entering the park must pay an entrance fee that is valid for seven days. The entrance fee provides entry to both Grand Teton and Yellowstone National Parks. Fees are $25 for non-commercial vehicles, $12 for hikers and cyclists, and $20 for motorcycles and snowmobiles.
One year passes are available as an alternative to the seven day fee. The Park Annual Pass is $50 and provides entrance to Yellowstone and Grand Teton National Parks. The Interagency Annual Pass is $80 and provides entrance to most federal recreation sites across the country including Yellowstone and Grand Teton National Park.
Continue Reading more on Yellowstone Park: